Overview
Google Things to do (GTTD) is a product from Google that allows guests to see tours and activities available nearby and book instantly. GTTD allows for the availability of products to be updated in real-time as guests are booking directly through your online booking engine (OBE).
The core of GTTD is the ability to go directly from a search result in Google or a map view, to booking an activity. The booking path is streamlined and optimized for mobile bookings.
Google Things to do differs from its predecessor, Reserve with Google, in that guests will be booking directly through a special URL connected to your OBE. You receive the payments directly from your guests without having to pay a commission or invoice at the end of the month. You do not need to be with a specific payment gateway.
Just like with other resellers, your system's connection to GTTD is managed through the Channel Manager. This channel is enabled by default for all Zaui users so you don't need to worry about anything, just enjoy those extra bookings.

This article will cover the following topics:
Eligibility Requirements
Google Things to do currently supports Standard, Interval, and Ticket activities for tour and activity operators. Gift Certificates, Rentals & Transportation activities are not currently supported.
Configuration checklist
Take the following steps to ensure your system is optimized and ready to accept bookings via GTTD:
Ensure all activities you want to make available via GTTD are published to the internet
All activities that are published and have a start date within the next 365 days will be bookable via GTTD. Check your activities are published and up to date.
Ensure the physical location of your business is added to each of your activities
In the settings of each activity you operate, the 'Activity Location' field must be pinpointed to your Google my Business listing location. The location cannot be vague such as 'Vancouver, BC, Canada'. In the activity location box type your address, select it once it appears correctly, then save your activity.
If you operate out of more than one location, enter the physical address of the location where that particular activity operates or departs from.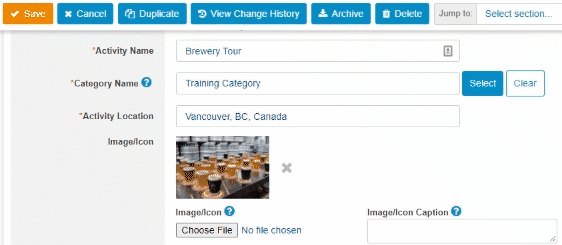 Add at least one relevant 'Point of Interest' to each of your activities
A point of interest is a location of touristic interest that is nearby a tour operation or may be encountered while on a tour.
For example, a guided tour of the most famous sights in Rome, Italy may visit the Sistene Chapel and the Trevi fountain. These and any other famous locations should be added as 'points of interest' to your activity in Zaui, so that your tour or activity can be presented as an option to people browsing one of these locations in Google Things to do.
In addition to adding a point of interest, indicate whether each point of interest has the cost of admission included in your tour price not not:
If there is an admission fee for visiting a point of interest that is not included in the product, click to turn 'Admission Included' to Off/Gray.
If your product includes admission to the point of interest, or it is free to vistit, 'Admission Included' should be On/Green.
Using the example above, the Sistene Chapel in Rome has an admission fee, while the Trevi fountain is a free attraction.
In Zaui, go to your activity and in the additional settings tab go to the section called Related Points of Interest (Google Things To Do).

Type in the name of relevant points of interest and indicate whether admission is included. Save your activity once all points of interest have been added.
! Points of interest must be searched and selected as shown in the image above. Pasting in a location URL or a Place ID will not work and your point of interest will not be included.
Ensure each activity image is optimized
The image in your Zaui system will also be displayed in Google Things to do feeds. To ensure optimal image display both in Zaui (for online bookings) and on GTTD, your images should be at least 765px by 430px with a file size of no more than 780 KB.
The aspect ratio can be any however we recommend 4:3 or 1:1, with preference for 1:1 ratio which will allow more versatility in cropping the image.
Manage the GTTD Channel
The Google Things to do channel has already been enabled in your Channel Manager and a new company listing under Resellers > Companies has been created for you.
By default, the Channel Rules are set up to allow any activity to be sold so you may need to change your rules so just those tours and activities that you want to be listed on your GTTD portal will be available.
Use the channel rules to define which activities you wish to make available. For more information on how to manage your channels, check out Creating and Managing OTA Channels.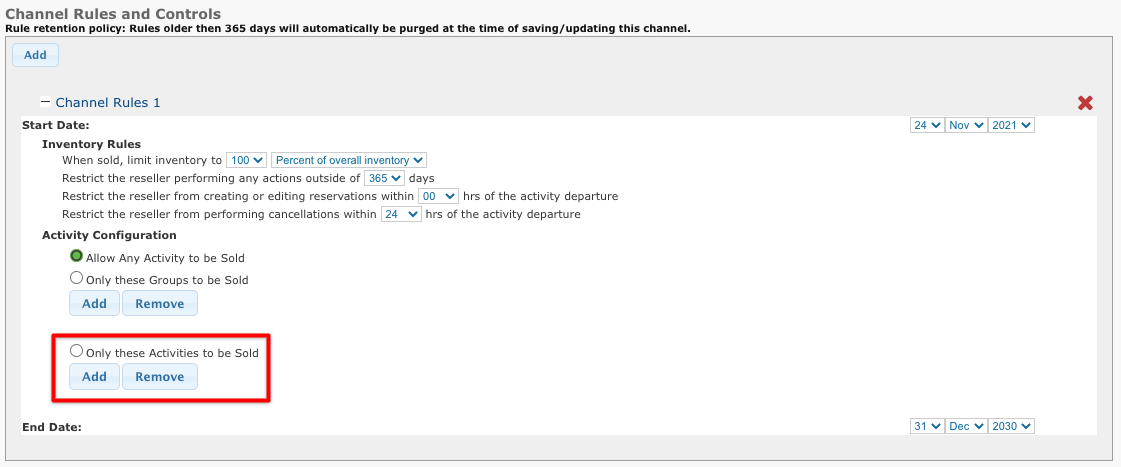 Manage the GTTD Portal
Once your channel rules are updated with your activities, you will need to ensure that your Google Things to do portal is updated with the same activities. Unlike its predecessor, you control what activities are made available to book by adding specific activities or activity groups via the GTTD portal settings (Settings > Online Bookings > Portals > Google Things to do)
When you initially click on the portal name, you can enable or disable the settings specifically for this portal: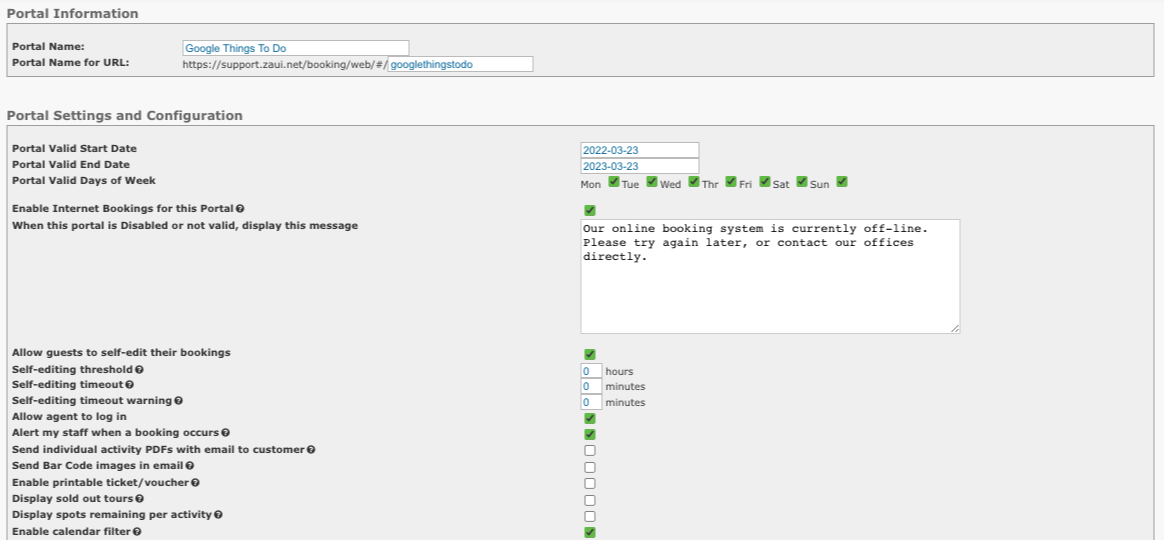 You can then set your minimum threshold times to prevent bookings from being received within a certain amount of time before the activity starts.

The last section you will want to edit is the Portal Booking Engine Activity, Product and Package Settings section. Here you can add specific activities or activity categories that you want to make available through GTTD.
By default, Allow ANY Activity, Allow ANY Package and Allow ANY Merchandise Product will be enabled.

If you are adding activity categories, you need to ensure the category is published to the internet as well as all of the activities within that category.
Even though packages and products are not currently compatible with GTTD, giving the option for guests to add more items to the cart could potentially mean extra revenue for you!


Bookings & Payments
The booking process is exactly the same process a guest goes through when booking on your company website. Once a guest has made the decision to purchase a ticket or book an activity with you, it's as simple as clicking on the Tickets button and choosing to book on your official site! This button will open the special GTTD portal that we've created for you.
Once they've made it through the booking flow, the booking will appear in your system, fully booked and paid for. You will also receive a booking notification if that setting is enabled in your system.
Reporting
You will see that the Company field in the booking will be attributed to Google Things to do. We've done this just so you can report on any bookings received from GTTD.
At this time, you are not required to pay a commission or issue invoices. Think of this purely as free advertising.
To run a report specifically on bookings received via your GTTD sales channel, navigate to Reports > Sales > All Sales > Expand the Additional Filters tab > Select Google Things to do from the Web Booking Interface filter option.

Opting Out of GTTD
If you would like to opt-out of GTTD, you can easily do so by visiting the Google Things to do listing under Channel Partners (Resellers > Channel Partners > Google Things to do) and unchecking the 'enabled portal' box.
Troubleshooting notes
Make sure the activities available in the portal match those listed in the channel rules for Google Things to do.

Ensure that your activities are published to the internet in the activity settings and have a start date within the next 365 days.

If an activity is not published on the internet but has availability within the next 365 days, it will not appear as bookable.

If an activity is published to the internet but ends at some point within the next 365 days, the activity will be available until the end date.

It will take up to 24 hours for the connection to be successfully established.