This quick start guide gives users the basics needed to get up and running with Google Things to Do. For a more in-depth guide, see this article here.

Configuration of the tours and activities you want to make available on GTTD is done within each activity. From the menu bar navigate to Activities > Activity List > Select Activity.
For eligible activities, you'll see a tab 'Google Settings'. This is the main area where you'll configure your GTTD settings.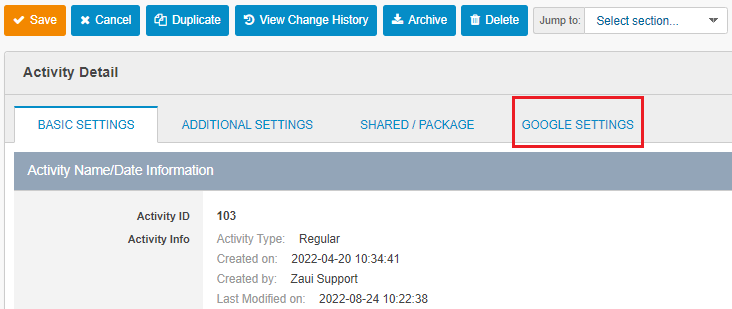 Google Settings Tab Configuration
This is where you enter all the additional information required for Google Things to do. Empty fields can affect how high on a page your product appears in search results, therefore more information is better and accuracy is essential. The minimum required fields are indicated with an asterisk.
Field Criteria
The table below describes each field and how to best fill them out to maximize visibility with Google Things to Do.
Field

Description

Formatting Comments

Inventory Type

Operator Direct: Use for tour and activity products that link directly to the tour operator's website.

Official: Use for attraction or point of interest products that link to the official website

By default, Operator Direct is selected

Website Landing Page*

The URL for the product page on your website. The page must be specific to the product and include a Book Now button linked to your booking engine

Website List View Page

A list view page is typically a display of multiple activities or tours, providing a snapshot of available options. It allows potential customers to view and compare activities quickly, showcasing key information such as titles, descriptions, prices, and durations

Only provide a list view page URL if the activity is prominently displayed. If the activity in question is in the bottom half of the list, it likely will not be used by Google

Highlights

Enter phrases and keywords that describe the highlights of your tour. These highlights help potential customers discover and explore the top-rated things to do in a particular area

The Highlights, Inclusions, Exclusions and Must Knows fields will not accept any special characters or formatting. You can only use a comma and space to separate each entry. For example admission, lunch, shuttle bus

Inclusions

List what's included in your product i.e. admission, meals, souvenirs

Exclusions

List what's not included in your product i.e. admission, meals, gratuities

Must Knows

List any important information that the customer must be aware of before taking part in the activity

Categories*

Labels to help Google accurately present your product when a user searches for an attraction or point of interest

*At minimum you must indicate whether your tour is a:

guided-tour(eg: raft tour) or a self-guided tour (eg: kayak rental)

Fulfillment Type

Select how customers can present their tickets as proof of purchase

Select from Mobile, Printed, or In Person. You can make multiple selections for this field.

Languages

List all the languages the product is offered in

"en" is the typical standard and will be the default if this field is left blank.

Google Profile Activity Address
List the address of the activity or meeting point
For businesses with multiple addresses is, use this field to enter the specific address for this activity

Images

Add image URLs of attractions or special landmarks that are included in the activity. The image in your Zaui system will also be displayed in Google Things to do feeds. The best practice for images is to have them hosted on your website and use that as the URL

Images must be at least 300x300 px and no larger than 4000x4000 px.

An aspect ratio of 4:3 or 1:1, with a preference for a 1:1 ratio to allow more versatility in cropping the image is recommended

Animated images or that are made up of multiple images (e.g. image collages) are not permitted.

Related Points of Interest

Add at least one relevant 'Point of Interest' to each of your activities. A point of interest is a popular location or landmark that is either specifically included in your activity or nearby a tour operation or may be encountered while on a tour. More on points of interest below.

Select the correct address from the suggestions that pop up once you start typing the name of the Points of Interest.

Related Points of Interest
Points of interest (POI) are required for the Experiences Booking module and optional for other modules.
* To learn more about modules see our in-depth guide on connecting with Google Things to Do.
We recommend adding at least one relevant POI regardless of your type of operation as there is no harm in adding points of interest in your local area as this gives you the chance of surfacing on an experiences module.
To add a point of interest, start typing to filter to the desired location.
For each point of interest you add, indicate whether admission is included or not included in the price of your tour.
If your tour visits the point of interest in question, and the admission to enter it is included in the cost of your tour, OR the point of interest is free to visit (for example, a famous plaza, fountain or statue), indicate that admission is included.


If your tour visits a point of interest that has a paid admission but the cost is not included in the price of your tour, indicate that admission is not included

Google is continually working to improve Things to Do. As this is a new development there will be ongoing changes over time.

Zaui sends the information you input in the Google Settings Tab over to Google at minimum, once per day. On occasion some information may not but input correctly or not match Google's records. Zaui will forward these errors to you to help you improve your results.
For more information on Google error messages, see this article here.