As you may have already seen, the Provincial Government is placing new restrictions on travel to and within BC in response to COVID-19. The order, which will be formally released on April 23rd, will:
Restrict residents to booking accommodation or campsites within their local health authority only

Be in place until Monday, May 24th - when Dr. Henry expects 60% of the adult population will be vaccinated

Expect industry operators to screen travellers and inform them if they aren't permitted to book, and cancel any current bookings from travellers outside their local health region
You can read more about what is currently known about these restrictions in this article from CBC.
We suggest waiting for the official order Friday, April 23rd, to make any changes to your booking flow, but to get prepared, you can plan how to communicate this message to guests:
Use your website as a primary source of communications around restrictions and health orders. Make customers aware of the criteria before they book

Update your cancellation policy temporarily if you need to implement specific language around the new order
You can also create a custom field so that at checkout guests will be required to check a box agreeing they are aware of the health order and are eligible to book for the date they have chosen. Here's how:
Creating a Custom Field
1. Under Activities > Custom Fields select Create Custom Field on the left
2. Under Label enter the text for the checkbox. There is a maximum of 400 characters.
3. Choose Checkbox under Type and mark as Required to ensure all customers check the box
4. Assign the field to the relevant activities under Assigned Activities. If you operate in multiple health regions, you may need to create a custom field for each region to have the relevant language.
5. Enable the custom field on your Online Booking Engine under Settings > Online Bookings > Portals. Select the relevant portal and scroll down to Booking Screen Setup.
6. Uncheck "use default booking form fields". Under Custom Fields check off your new field, and ensure it is marked Required.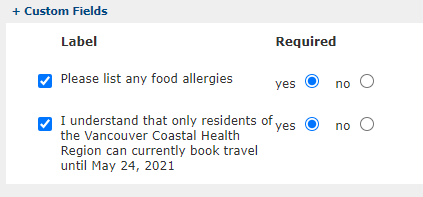 7. Above under Customer Details, you can also enable and require the customer's address.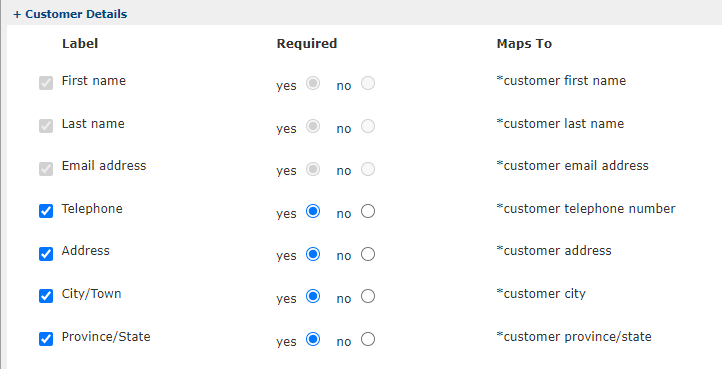 8. Save and repeat if you have multiple portals or custom fields to add
9. Now, when customers are booking the assigned activities, they will be required to check that box on the booking
10. Keep a close eye on health orders and set yourself a reminder so when restrictions are lifted you can remove the checkbox and let your guests know you are open for business