Over time, you may discover your cancellation policy evolving and updating. This article will provide you with step-by-step instructions on how to create Cancellation Insurance by using the Products section.

In response to increased requests from guests to change or cancel their bookings, some operators have implemented a "cancellation insurance" or a "flexible date" option where, for a fee, customers are allowed to cancel or change their booking(s) outside the usual policy.

Note that this is just an overview of creating Cancellation Insurance so if you're new to creating products, we recommend reading through the Setting up and Managing Products article.
Creating Cancellation Insurance
Follow the steps to create a new product and

work through the

Product Information,

Internet Booking Configuration & Zaui API Configuration sections.

Under the Pricing Information section, you have the option to either select Percentage or Flat Rate. Normally, c

ancellation insurance is priced as a percentage rather than a flat rate (so it is then tied to the value of the booking), but both options are available.




Next, you need to connect the product to the applicable activities so it will appear as an optional add-on at the time of booking. You can do this in one of two ways.

If you would like the product to appear for all activities, you need to enable the "Available online for any activity/tour?"

If you would like to only appear for specific activities, you need to add them as linked Merchandise Products in the Additional Settings section of the activity settings.



You'll also want to make sure you update your Cancellation Policy/Terms & Conditions to reflect this option.


It's as simple as that! Now when customers make a booking online or via your staff, they will be prompted with the option to add on Cancellation Insurance.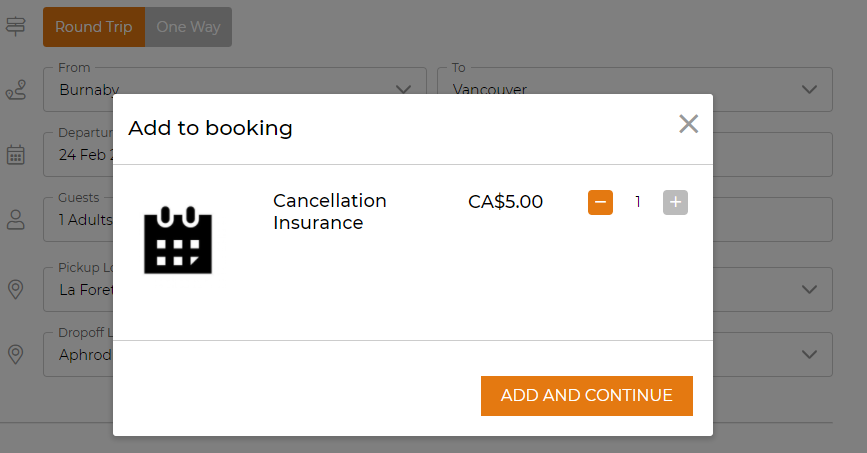 It's important to note that adding this product to a booking does not directly affect the booking's ability to be modified or cancelled (in the back office or via the Edit Bookings Online feature), instead it serves as a way for your team to manage cancellation or rebooking requests.