What is Zaui Insights?
Zaui Insights gives a snapshot performance of your business, helps you identify trends and patterns in your data, and forecasts future business levels. The primary KPIs (Key Performance Indicators) that form the pillars of this powerful new tool is the driving force behind the success of any tour operation: Revenue, Bookings and Customers.
Check out this Blog Post to find out more about What Zaui Insights can do for your business.
This article will go over the following topics:
Insight Tool Features
Your insights tool is accessible under the Reports menu of Zaui Core (Back Office)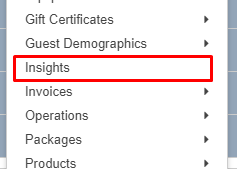 | | |
| --- | --- |
| | If you don't see the Insights item in your reports menu, navigate to Settings > Employee Permissions and ensure the Insights box is ticked under Administrator. |
Once you click on the Insights item, you will be brought to the Insights Dashboard.
On the top right-hand corner, you can change the parameters of the dates. Change the dates and the comparison period.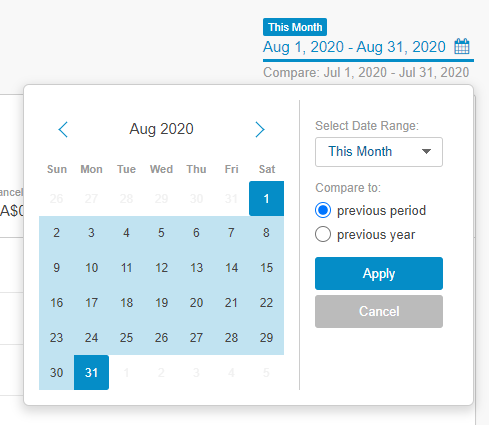 On the left-hand side, there are various views to look at: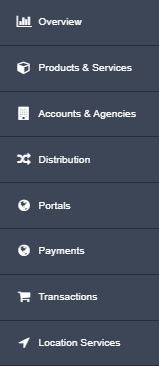 Overview
The first layer of Insights introduces you to your three primary KPI's: Total Revenue, Total Bookings and Total Customers and illustrates your revenue levels over the chosen date range compared to the same period in the previous year.

The Overview tab also provides you with a heat map for departure time preference and graphs that display where your bookings are coming from.
Products & Services
This tab provides a breakdown of revenue each of your tours or products and services are generating, compared to the previous period. It shows you which are your top-selling services and products. This tab also shows you whether price changes you have done are impacting your revenue or not. You can easily see if your revenue vs. booking vs. customer numbers are up or down.

Accounts & Agencies
This tab will indicate how your different distribution channels through agent logins are performing. It will display your top producing Commission and Wholesale Agencies.

Distribution
The Distribution tab is similar to the Accounts & Agencies tab but instead, looks at how your Online Travel Agency (OTA) partnerships and Zaui Connect relationships are performing.

Portals
The Portals Tab will display how your online vs. offline revenue compare. That is to say, any bookings made directly by your customer online, and booking made by your staff in Zaui Core (Back Office). If you have multiple portals set up in your system, this tab will also provide comparisons on which portals bring in more revenue.

Payments
Depending on the Payment Gateway you are working with, this tab may or may not be visible for you. You will see the Payments tab if you are set up on the "Zaui Free" model.
This report will pull information from Stripe (if that is your Payment Gateway), including the net the company collected on the booking, minus the payment gateway and Zaui fees.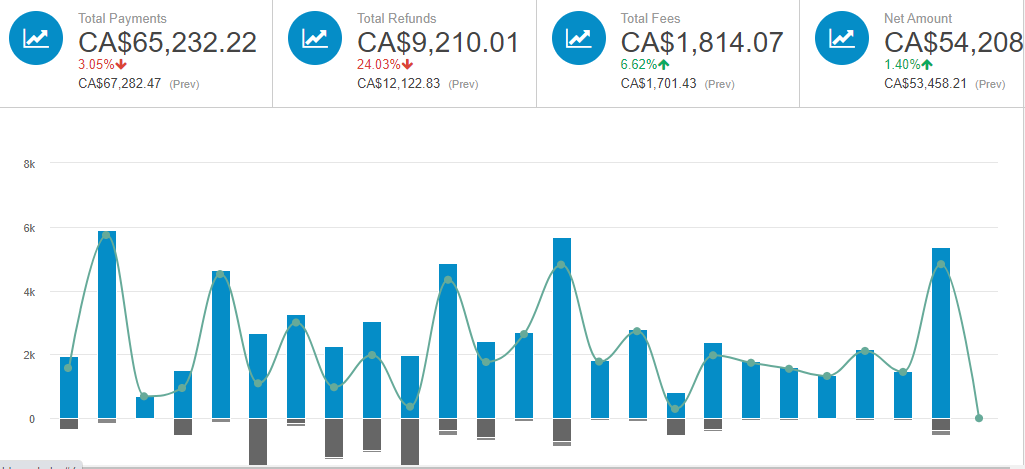 | | |
| --- | --- |
| | The Transaction and Location Services tabs are still underway - stay tuned for those additional Insights features! |