Overview
A manifest provides you with a list of bookings for a specific tour, time slot or vehicle. Zaui gives you the option of looking at activity-specific or entire-day manifests.
This article will cover the following topics:
Different Types of Manifests
| Manifest Type | Definition |
| --- | --- |
| Standard Activity Manifest | Manifest that can be customized for all Standard and Point to Point Activities |
| Interval Activity Manifest | Manifest that can be customized for all Interval Activities |
| Entire Day Manifests | Provides passenger lists for the entire day, handy for Operations |
| 80mm Thermal Manifest | Manifest that can be printed on a receipt printer; only available from the Interval screen for Interval Activities |
| Rental Activity Manifest | Manifest that can be customized for all Rental Activities |
How do I customize my Manifests?
Each manifest type can be customized to suit your operational needs and can filter relevant information for you to run your business successfully.
From the navigation bar, select Settings > Manifest Layout.
Always ensure you first Select which Manifest to update from the drop-down menu.
When editing your manifest, you are able to:

Add and Name new columns using the icon.
Rename your existing columns.
Drag the attributes that you would like to appear on your manifest from the left-hand side into the columns. Hovering over the attribute name will show a definition.
Drag and drop columns to reorder the manifest.
At the bottom of the screen, you can also choose how the manifest is sorted, choose if there is a check-in option or not (Interval and Standard Activity Manifests only).


Don't forget to Save Manifest (at the bottom of the screen) or your changes won't be saved.
| | |
| --- | --- |
| | When you make any changes to your manifests, it will change your past manifests as well. |
Viewing Manifests
Manifests will be created once you have bookings on your activities.
The manifests can then be accessed through the dashboard on your home page, by clicking on the icon.




The next page will provide you with the manifest details (which you have customized), and if you have enabled the check-in option in the manifest configuration settings, this is where you will be able to manually check-in guests.


Comments may be added to any booking directly on the manifest screen in the comments column by clicking add/edit notes.
Managing Bookings from your Manifest
Passenger Assignment Manifest
If you are offering a tour where multiple pieces of equipment are assigned, you can choose which customers to put onto which piece of equipment directly from your manifest.
First, ensure you have assigned your equipment either when you created your activity, or manually (check out this article to learn about manual equipment assignment).
Once bookings are made on your tour, click on the manifest button on your main dashboard to open up that particular manifest.
Any booking where two or more pieces of equipment have been allocated will have those pieces of equipment display on the manifest.




From the manifest, you can simply drag and drop each individual reservation onto the desired piece of equipment.




From here you can also click on Guide/Drivers and assign any of your Guides/Drivers that have been assigned to the tour onto each piece of equipment.
Resource Assignment Manifest
There is also a stand-alone manifest tool that can be used to manage bookings across various equipment and tours. The Resource Assignment Manifest can be accessed from Activities > Scheduling Tools.
Say, for example, you need to organize pickups for your customers to bring them to a central location where they then board their allocated bus for their tour. The Resource Assignment Manifest can be used to organize pickups according to similar pickup locations as the tool does not interact with equipment/passenger assignments on particular tours.
To use this manifest:
Navigate to Activities > Scheduling Tools > Resource Assignment Manifest.
Add Equipment/Resources in the lower section of the page.
Drag and drop bookings from the top section to the resources you have added in the lower section.
Assign Guides/Drivers to the resources as required. Send the manifest by email to the assigned guides/drivers using the Notify button.
View or print the manifest for each resource by clicking the Print button.


| | |
| --- | --- |
| | The resource assignment manifest follows the same format as your Entire Day Manifest. Add/remove information using Manage Manifest and selecting the Entire Day Manifest to update. |
Bookings assigned to equipment on the Resource Assignment Manifest have no impact on the equipment that is assigned to the tour. The tool is for stand-alone equipment allocation.
There is no need to Save. As you assign bookings to resources, information is stored and updated in real-time and will be visible each time you open the Resource Assignment Manifest.
Sending Notifications from your Manifest
The manifests also include a Notification feature, which allows you to email/SMS customers on that particular tour directly from the manifest. This is a great tool to use if you need to send a quick last-minute notification regarding tour delays, traffic or any communication useful to your customer on an upcoming tour or activity.
Simply click on Send Notification and a pop-up will appear, allowing you to either select from a pre-configured list of notifications, or enter free-hand text.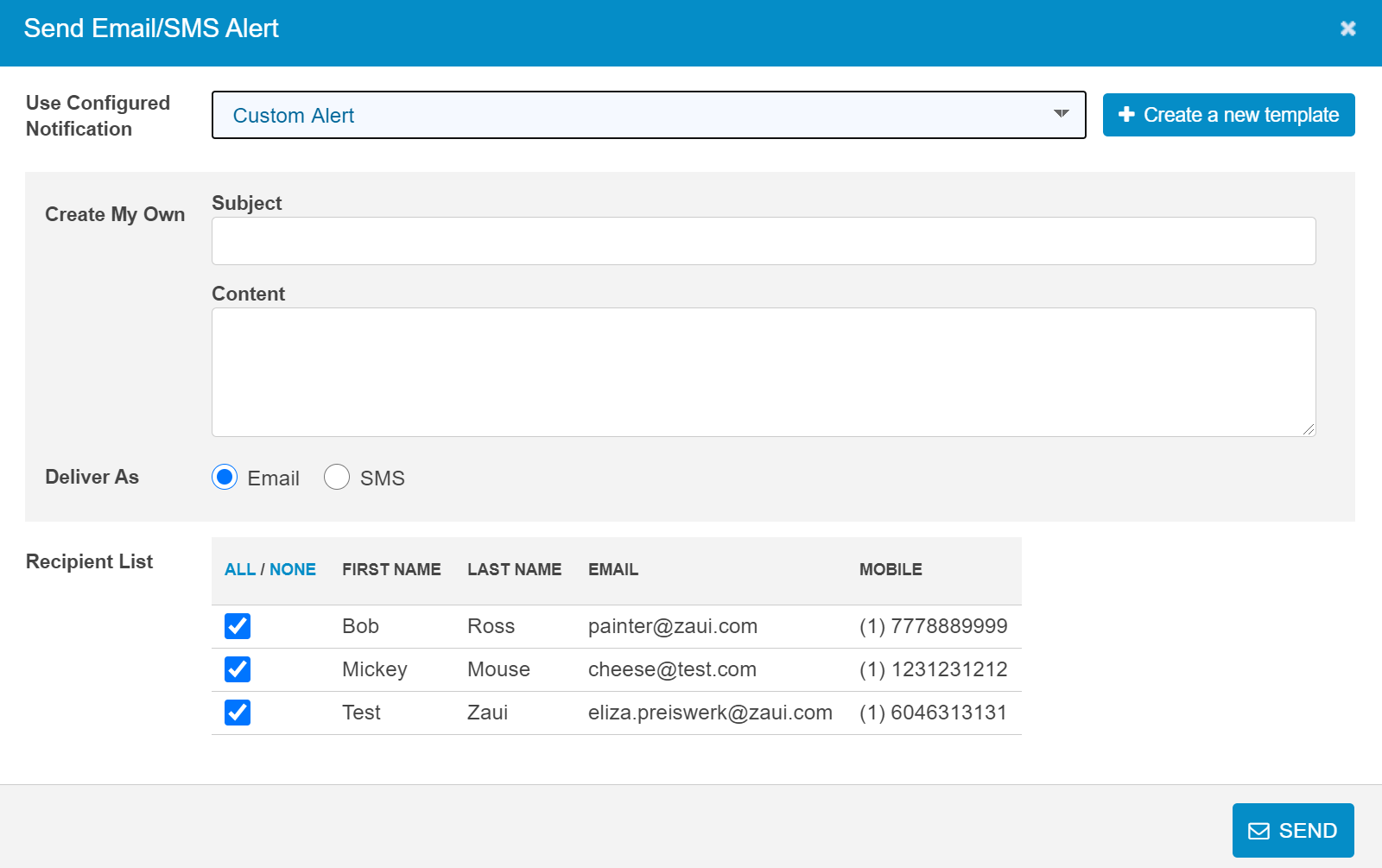 For more information on setting up Notifications, check out this article.