What is Wholesale in Zaui?
Wholesale refers to ANY relationship in which a third-party or reseller takes payment on behalf of the supplier and is invoiced at a later date.

Automatic integration relationships such as
Viator
,
Expedia
,
GYG
,
Zaui Connect
or
Blue Sky Booking
will always be known as Wholesale Resellers.
This article will cover the following topics:
There are 3 steps to setting up and using Wholesale in Zaui:
1. Creating the Rate Code
Follow the steps in this article to create a new wholesale rate code. Once done, move on to Step 2 below.
2. Creating the Company
From the navigation bar, select Resellers > Companies > Company List.
Click Create Company from the shortcuts panel.
Enter the Company Name

and any other optional information you choose to fill in.
If the company keeps a certain amount of credit on account with you, enter the amount of credit the company currently has on hand.

Under Remote Supplier Connection Details, select

Wholesale (Discount/Invoice)

as the

Rate Type.




Report Commission/Invoice based on transaction date

means all net discounts will be recorded by transaction date instead of activity date on invoice reports.
Display net rate discount for agents online

means the net rate will be displayed at check-out when agents are logged-in for online bookings.
Click on to attach the Wholesale rate code created in Step 1.
Be sure to set the Start and End Dates AND what the rate applies to.




Scroll back up on your screen and don't forget to Save.
3. Creating the Agents
From the navigation bar, select Resellers > Agents

.

Click Create Agent

from the shortcuts panel.
If you would like the agent to book reservations through the Zaui online booking engine, flag Allow user to login, create a

username

and

password

and set the

login expiry date.


If any of these above fields are left blank the agent will not be able to log in online

Enter the agent's First and Last Name

(the only required

fields are the name and rate fields, but feel free to enter as much information as you would like).
Select the

Company

created in

Step 2.
Enter an Email Address

if the agent would like to receive email confirmations for their bookings.
If this agent gets a different commission rate from the one assigned to the company, add a new rate code. Check out this article for rate hierarchy details.

Select an existing commission code (or

create a new one).
Be sure to set the Start

and End Dates AND what the rate applies to.
Creating Bookings as a Wholesale Agent in
Zaui Core (Back Office)
When it comes time to process payment for a wholesaler booking in Zaui Core (Back Office), simply select Voucher as the payment method on the checkout screen, select the applicable activity, select the company created in step 2 above, and enter the voucher number* (or numbers, if you have more than one voucher for the same activity). The reference number is the reseller's booking ID.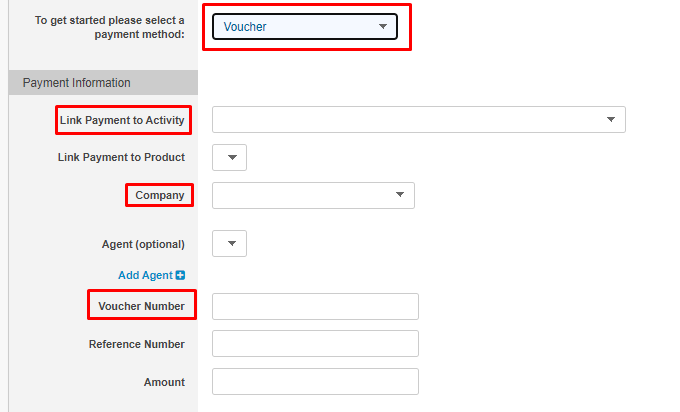 The voucher number is usually the wholesaler's reference/tracking/transaction number for the reservation.
Creating Bookings as a Wholesale Agent on the Online Booking Engine
If you created login information for the agent in Step 3 above, have them enter their username and password into the Agent Login panel on the online booking engine by clicking on

. This will automatically attach their account to any bookings that they make online.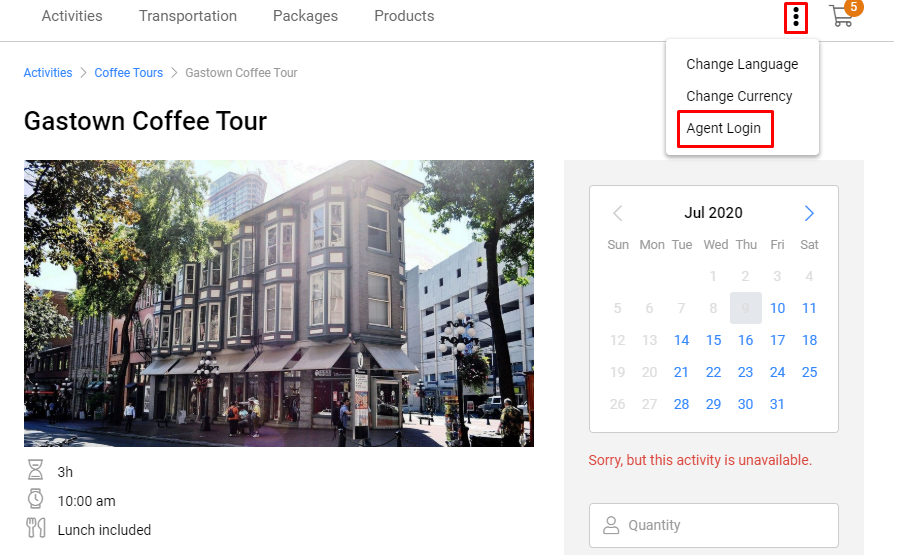 When you arrive at the checkout page for a wholesale booking, Voucher as a payment method will automatically be configured (since you logged in as a wholesale agent).
Simply enter the voucher number and press Pay to complete the booking.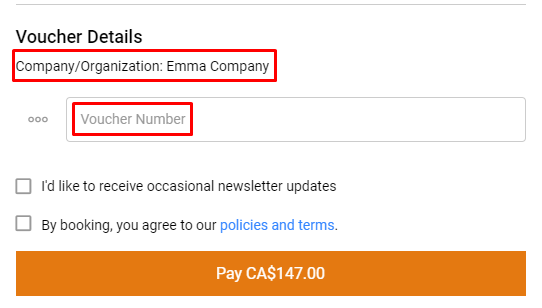 Activities can only have one voucher applied to them. If there is more than one voucher with different numbers applied to one booking, all voucher numbers must be applied to the booking at the same time.
For information on how to report on wholesale bookings, check out this article.
Wholesale Credit on Account
If the wholesale company keeps a certain amount of credit on account with your company, you can add credit to their company profile.
From the navigation bar, select Contacts > Manage Companies > List Companies.
Click on the Company Name you wish to add credit for.
Under Company Information, you can enter an amount for Credit on Hand ($).




When making bookings in Zaui Core (Back Office), select Credit on Account as the payment method of choice. The system will then ask you which company you would like to take the credit from. Once you have selected your company, you will be able to see how much money they have on account, and, if there are sufficient funds, you can directly take the funds out of the company's account.





If

Credit on Account

doesn't appear as one of your options for methods of payment, make sure you have enabled it in the Zaui User Interface Settings of your

System Settings

.