| | |
| --- | --- |
| | Please note this article only relates to Enterprise or Enterprise+ Models. If you are signed up for our Free Payment Plan, head over to this article. |
Overview
Now that you have selected and signed up for a Payment Gateway (check out this article for a list of compatible gateways), we will show you how to manage them in your Zaui system and how to turn on credit card processing to receive payment!
This article will cover the following topics:
How to set up a Payment Gateway in Zaui
| | |
| --- | --- |
| | Payment gateway passwords cannot contain special characters, only letters and numbers |
You can follow the above steps to set up multiple payment gateways in your Zaui system. To change your default payment gateway, simply click on the

icon on the processor you would like to activate. Confirm the activation, and that processor will then display as

.


From the navigation bar, select Settings > Credit Card Processing.
Scroll down to Processor/Payment Gateway Configuration and click on the icon.
Select your payment gateway from the drop-down menu and enter your account information (provided from your payment gateway) in the corresponding fields.
Click on Save.
To set this newly added payment gateway as the default, click on the icon that appears next to the processor name.
Confirm that you would like to activate this gateway.
Click on Save. The payment gateway is now active.
| | |
| --- | --- |
| | If you are connecting to Stripe, follow steps 1 through 7 above and then click on the Connect With Stripe button at the top of the page to complete the set-up. You will be brought to the Stripe log-in page where you will have to sign-in in order to enable the payment gateway integration. |
How to assign a Payment Gateway to a Portal
Different payment gateways can be used per internet portal. This section is only relevant to you if you are planning to set up multiple payment gateways if you happen to have multiple portals set up in your Zaui system.
Select Settings > Online Bookings > Portals.
Select the payment gateway you want to assign to the portal
Find the Payment Gateways line under the Portal Settings and Configuration section.
Don't forget to save any changes made.

Enabling Live Credit Card Processing in Zaui
Once your payment gateway is in place, you'll need to adjust your credit card processing settings in Zaui.
Select Settings > Credit Card Processing.
Check the Enable live processing box.
Uncheck the Count offline transactions and Allow declined transactions boxes.
Make sure you conduct a test payment and refund in Zaui Core (back office) in order to make sure everything is set up correctly. Simply create a booking from your main dashboard, process with a credit card, and then immediately cancel and refund the booking.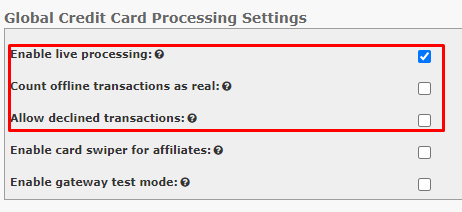 How Refunds affect Payment Gateways
If you make a refund with multiple payment gateways set up, the refund will automatically be processed through the same payment gateway as the original transaction.
That processor does not need to be activated within Zaui but does need to have an active account attached to it.
If making a switch in payment gateways, allow for a 30-day overlap period before closing the former account. This will ensure that any necessary refunds can still be processed in your system.